2019 Photo Gallery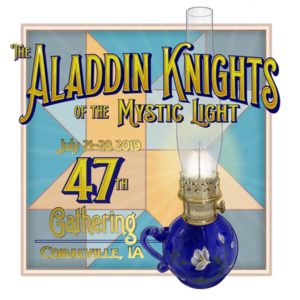 The Annual Gathering of Aladdin Knights is a yearly national convention sponsored by The National Association of Aladdin Lamp Collectors http://www.aladdincollectors.org
Each year a group of Aladdin Knights volunteer and work closely together to plan and host the ultimate event in Antique Lighting for their fellow Aladdin Lamp Collectors, users and enthusiasts. These Volunteers are known as the Knights of the Round Table (KRT)
Each day at the Gathering is packed with events; Room Trading, Auction, Educational Seminars; including one for first time attendees. Don't miss the display room and the International Lamp Show and Sale! Saturday evening we join together for a Banquet, evening program with raffle prizes and awards.
The Gathering welcomes all antique lighting enthusiasts, you do not have to be an Aladdin Knight to attend.

Schedule of Events

Tuesday – Trip to Amana Colonies – an Amish community near Coralville.
Tuesday thru Saturday – Room Trading: No Gathering is complete without Room Sales! http://www.aladdincollectors.org/gatherings/2019/slideshows.php?comFolks open their door for attendees to come browse, shop, wheel and deal while making new friends and renewing old acquaintances. Registrants and dealers display their lamps, parts and items for sale in their hotel rooms during this truly unique experience. This activity is the main social activity at the core of the Gathering.
Hopitality Room: Featuring good conversation, snacks and cookies and a place to relax and make new friends. Bring homemade cookies and share your favorite recipe. If you'd like to help out, contact Ron & Vicki Jenkins at 931-729-4820
Wednesday – National Association of Aladdin Lamp Collectors (NAALC) Board Meeting in the Morning – Knights of the Round Table (KRT) Luncheon at Noon.
Thursday Auction – The "All Aladdin" auction is the first official event of the Gathering, where price trends are often established. The auction is open to the public whose purchases will be subject to a 5% buyers premium.
Thursday Welcome Reception – Join for a meal, reveal of the auction quilt and Saturday Evening Raffle quilt and raffle prizes. Another great way to meet and make new friends.
Friday – First Time Attendees Seminar. Come Meet J. W. Courter, author of Aladdin The Magic Name in Lamps, Aladdin Electric Lamps, Aladdin Collectors Manual and Price Guides and other publications related to lamp collecting. Ask questions and learn from your fellow collectors. You're likely to even win a raffle prize!
Friday and Saturday – Educational Seminars are hosted throughout both days on various subjects. Don't miss out on these great learning opportunities.
Friday and Saturday – International Lamp Show and Sale. The Lamp show is undoubtedly the largest show in the world dedicated to antique lighting and is open to registrants on Friday Afternoon. Open to the public on Saturday for a nominal charge. Noted dealers & collectors from many states as well as from England and Canada feature outstanding antique lighting of all kinds.
Saturday Evening Banquet – Come share a delicious meal with us with tables lit by Aladdin Lamps! Take part in an informative program with raffle prizes and a change to say farewell to friends we may not see for another year!
Sunday – Safe Travels back home.
Event Hosts & Registration Form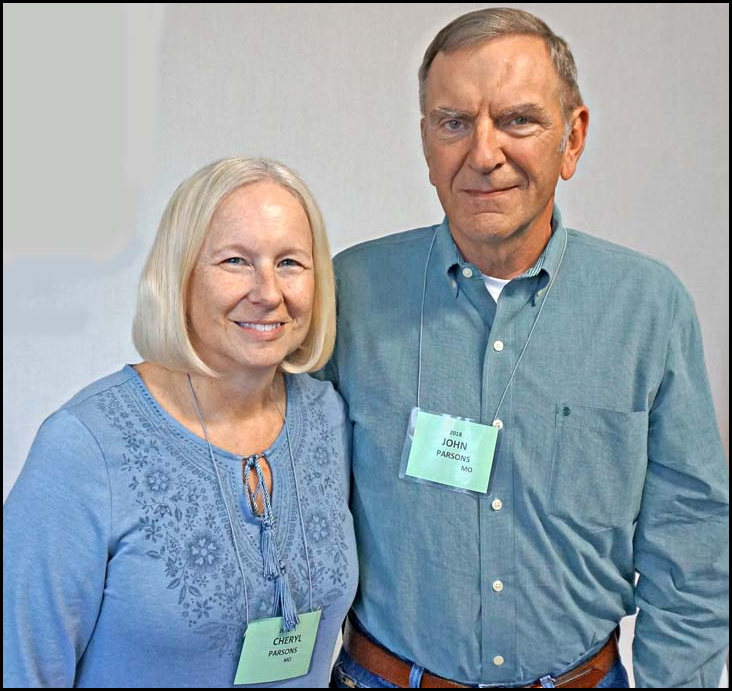 John & Cheryl Parsons – Hosts and General Knights
Mailing Address: 5060 North Route E. Columbia Missouri 65202
Phone: John: 573-253-7017 or Cheryl: 573-253-7107
Email: aladdin2019@outlook.com
Venue and Lodging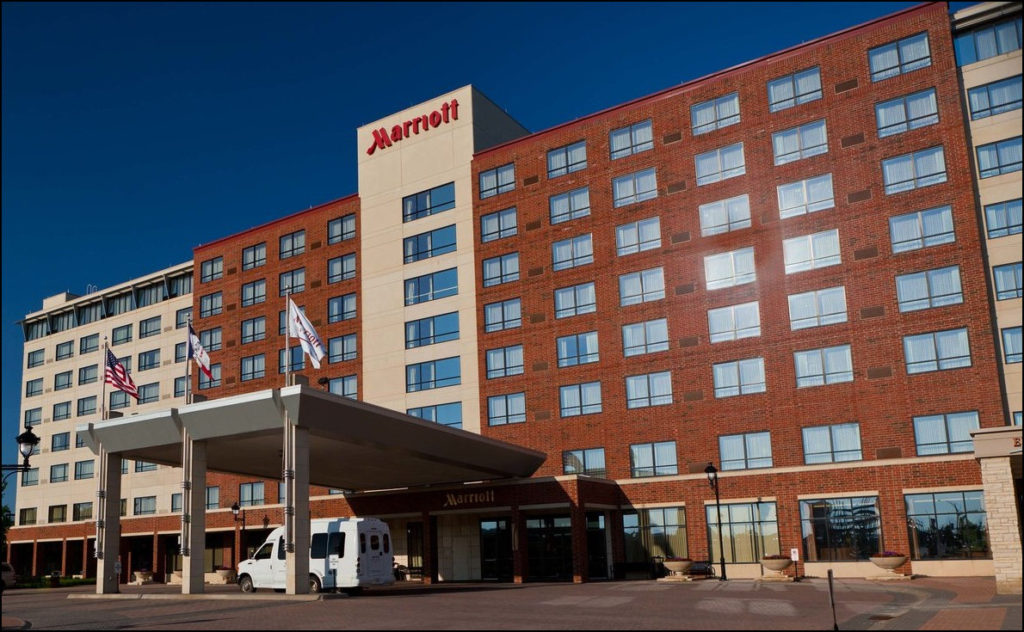 Coralville Marriott Hotel and Conference Center
300 East 9th Street
Coralville, Iowa 52241
Reservations call 319-688-4000 – ask for "Aladdin Group" rate of $104 plus tax